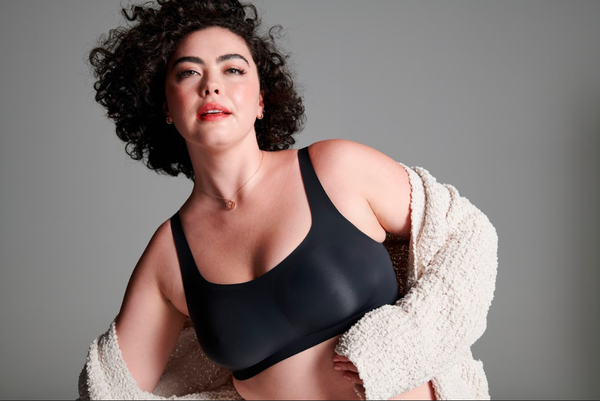 Evelyn & Bobbie Vs Knix Bras – A Customer's Review
Evelyn & Bobbie vs Knix – this is my experience.
I hate underwire bras.
I hate the way they stick, poke, itch, and dig. And don't tell me they wouldn't do that if I just coughed up for an expensive one and got it properly fitted. I've done that more times than I care to count. Cheap or pricey, cute or industrial, they all disappointed me.
So one day I went on the holy grail quest to find a non-underwire bra that would hold the girls in place.
This had nothing to do with COVID, although I've heard that women everywhere gave up wearing bras en masse as soon as lockdown happened. Position that camera right, and no one on Zoom will know, right?
I've been working from home for over 17 years but, thanks to having larger breasts, I need to wear something or I'll hurt myself going up and down stairs. And I live in a townhouse, so I go up and down stairs a lot. Plus, sometimes I need to be able to answer the door.
Basically, I was looking for the bra equivalent of good lounge pants. You know, the ones you'd wear to the grocery store without being embarrassed if you run into someone you know.
So I was excited when a bosom buddy of mine told me about Knix. I call her my bosom buddy because we frequently bitch to each other about life with big boobs. If this wireless bra worked for her, surely it would work for me, right?
Well, the short answer was "no."
Knix, True to Whose Size? Not Mine.
For starters, the sizing is tricky. All the reviewers say Knix runs true to size but that wasn't my experience. I bought the recommended size for me and it was perfect in the band and too small in the cups.
Customer service was responsive and friendly, but in the end, admitted my options were limited. I couldn't just go up a cup size: To increase the cup I had to increase the band, so I had to choose which part of me I wanted to fit and which part I wanted to compromise. I went up a size.
The support was fine (medium), the straps were like regular bra straps, which, with my small shoulders, meant they kept slipping off. It was nice and light and the laser cut meant it was smooth under t-shirts. And the colour was good.
But overall, it was just another bra that got on my nerves within 10 minutes. I couldn't see what the big deal was. After a while, Knix migrated to the bottom of the drawer and I renewed the hunt.
My Uptight Mother
My mother may have died at the start of the 80s, but that didn't stop her ghost from continuing to have a say about how I dressed for the next decade.
From the day I was old enough to need a bra, Mum made sure I also understood the need to hide the fact that I was wearing one. This started my life-long habit of always wearing a camisole or other type of tank top under my shirt and over my bra.
(For the record, I no longer do this to hide my bra. I'm a grownup now. I've been to therapy.)
I continue to do it today for three reasons:
I don't like it when the shirt I'm wearing lifts up to expose my belly (still a little uptight I guess).
I like the feeling of that extra layer – it's like a hug.
It keeps me warmer in the winter and acts as a sweat barrier in the summer.
When I saw Evelyn & Bobbie's Defy Bra Tank, I was over the moon.
Yes, I've seen similar ideas from other brands, but this one had cups. And a supportive band under the bust. And nice wide straps that didn't look like bra straps.
Reader: I Want to Marry this Wireless Bra Tank
The Defy Bra Tank lived up to my expectations and dreams in so many ways:
Sizing: Evelyn & Bobbie's advice for their wireless bras is "too tight is just right"— that's because, after a couple of wearings, the tank adjusts to fit you. And it does. Perfectly.
Support: My Defy Tank feels like a second skin—like I'm wearing no bra at all! Yet the girls are snuggly in place.
Comfort: No pinching. No poking. No digging. No squishing. When 5 pm rolls around, I do not rip it off my body. I've even slept in it!
Quality: It's very well made and feels substantial without being too heavy.
Style: This tank makes my clothes more flattering. I love that it is one smooth line down my body.
I got the Defy Bra Tank in amethyst and am already planning on getting another colour or two. I'm like Linus with his blanket now – I can hardly wait for the laundry to be done so I can have my favourite bra back.
Evelyn & Bobbie Vs Knix – Final Thoughts
In closing, if you're like me and have been searching for the bra that doesn't feel or look like a bra, this is it. It definitely lives up to its name by defying convention and delivering comfort and support.
Margaret MacQuarrie
Shop for Evelyn & Bobbie here.
See our interview with the Evelyn & Bobbie founder here